evidence
What did you find out?
We discovered a collection of BBC Radio documentaries all about Gypsy & traveller people. They were made in the 1960's and it would have been the first time the voices of real people had been heard. The work was ground breaking but hardly anyone knew about it.
What do you want to change?
We were making a documentary about it but also wanted young Gypsies and Travellers to understand how important collecting stories from older family and friends is – show them how to do it in a fun way! This is sometimes called 'Oral History' but it just means talking, listening and recording people telling real life stories.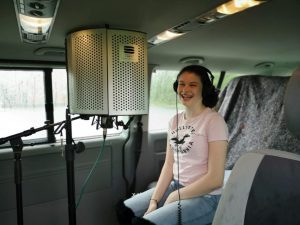 What do you recommend?
We wanted the young people to use technology they were comfortable and used to using. So instead of fancy complicated equipment we used mobile phones and iPads and social media apps like TikTok and Instagram. We worked with the young people on the best to get people talking and sharing, how to edit the film or audio together and the importance of getting permission to share. We also got the young people thinking about the work that was made back in the 1960's and doing some research in to who the people were who took part and what life was like then.
advice

What advice would you give?

"Oral History" sounds a bit boring but when they explained a bit more about it and that we could use our phones and iPads and stuff that was better. I really like listening to my Dad and my Gran talking about the old days and this is just a way of getting it recorded so it's there for ever" Bestsy, 12 "My Mum was shy to talk but in the end we have tea and biscuits and turned it in to group chat and hid the phone then you couldn't stop her" Daniel, 11

How did you include people?

We worked with a group in Wales that we had done some media training with before so we knew most of them and the team. We talked about the project and why it was important and showed loads of examples and made it fun. The young people then invited older members of their family along and we made cakes and tea.

What did you enjoy?

"I liked making the cakes, and listening to Mum and seeing her really happy" Angel, 9 "I liked making the TikTok film so other people can see how to do it not just dancing and I have used it before so it was easy " Candice, 10

impact

What has changed?

The young people have started recording and sharing memories that will be captured forever. Preserving history of days gone by.