CPIP@UCMC2 is moving
Thank you to everyone who has looked at this website and given feedback.
The things that we learned from your feedback have been used to create a new children's participation website https://cp4europe.org/.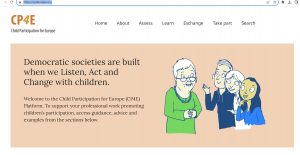 The information and examples from this CPIP site are being moved over to the CP4Europe site. So, please go there to find and share resources and your practice examples. We are also sharing advice learned from the CPIP pilot with the EU Child Participation Platform.
If you are interested in research by and with children and young people, please click on the coloured squares to the right of this screen you can also visit a site led and developed by and for young researchers.
This site was initiated by UCan young researchers and has been supported by PAC researchers and other young researchers. It is being developed by The Centre for Children and Young People's Participation in collaboration with other partners.